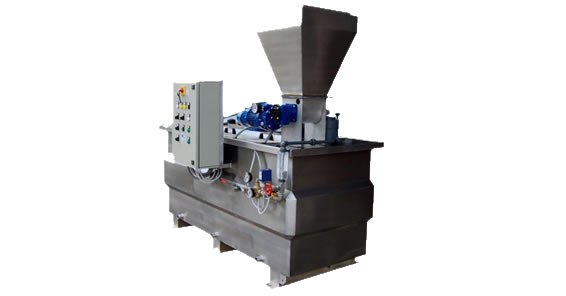 HOW ECO-DOX WORKS
Eco-Dox allow clients to prepare and feed polyelectrolyte solutions in pre-set concentrations.
The volumetrically metered powder in the hopper is gravity fed into a Venturi mixer where water is added by a centrifugal pump drawing water from a tank fitted with level probe, guaranteeing proper mixing even at low water pressures.
The solution formed in the first tank is fed through siphon walls to subsequent tanks guaranteeing perfect readiness after stirring with specially designed mixers.
Probes provide fully automatic operation.
PRINCIPAL WORKING FEATURES
– Feed water pressure above 2 bars
– Uncontaminated water for dilution
– Manual and automatic operating modes for all single items of equipment
– Water fed into the plant for mixing must be free of solid particles in suspension
– For proper mixing a minimum pressure of 2.0 bars is required.