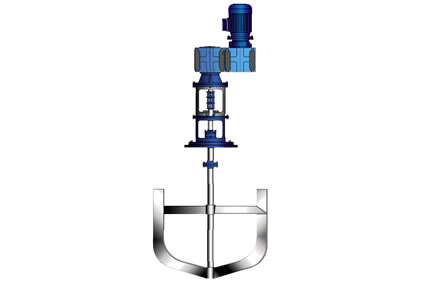 Vertical low-speed agitators equipped with parallel (axial) or right-angled shaft gear reducers fitted with flexible coupling.
The supporting lantern is made of extrastrong electric-arc welded carbon steel well suited to withstanding high torque stress, and can house mechanical selas (either of a simple kind or with a lubrificant cartridge).
Available with power up to max  45 Kw.
May be supplied with optional UNI-ANSI coupling flanges. Shafts and impellers are made of stainless steel304-316.
Available with multiple impellers, powered by axial (radial) thrust or with bottom anchor scrapers.
Widely adopted for chemical processes involving high viscosity fluids and in pressure vessels.